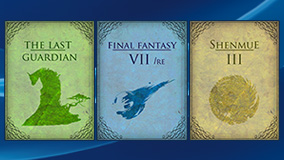 Posted by STR-MS on Tuesday, June 16 2015
Well, what can I say? Ubisoft put on a great show themselves with a solid lineup of titles to look forward to, many of which came out of the blue and were a complete surprise to us all. Best conference of the day by far.
Not for long though!
Sony dropped the bombs shortly afterwards and delivered arguably the best E3 Conference we'll probably ever see. When they open with none other than THE LAST GUARDIAN, you know you're in for ride, and that we were. If they're opening with this, surely those other rumours can't be true as well, I asked myself? I had a good feeling about TLG this year and strongly believed it would show, but I fully expected it to be the show closer. Nope!
What was the next bomb to drop? How about the much requested remake of Final Fantasy VII? Oh hell yes! OMG. I still can't believe it now.
They didn't stop there though. Oh no. Pretty much straight after that they went into... Shenmue 3. Holy Crap. This is something I have waited half my life for right there. Words cannot describe...
On top of that we got a stunning gameplay demo of Uncharted 4, the beautiful reveal of Horizon and the list goes on. What an amazing, amazing show. Well done, Sony and thank you for listening to your fans! <3
Apologies if this post is a little all over the place btw. Still on a high right now :D
---
36 comments