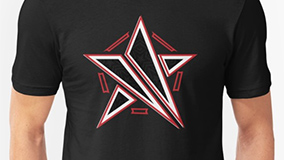 Posted by STR-MS on Saturday, April 8 2017
Incase you've missed - The STR Store has just been updated with a new design, used across a range of new & existing products. As Redbubble have introduced several new items (such as clocks) since my last store update, I am also in the process of updating a few of our older designs to be used on these too.
The new design (seen to the left) came about due to the release of Persona 5 and my love for its colour scheme & incredible sense of style. After spending a good few hours with the game I had the idea to create a new P5 inspired Shattered Star, and so I set to in Photoshop. This idea & design quickly stemmed to being used for a new STR wallpaper, 2 forum avatars and a STR Store update.
The new wallpaper & avatars can be found here, and more info on the store update can be found here. Comments are appreciated.
Hope you all like!
---
30 comments